Nose down, eyes up
NOSE DOWN, EYES UP is, in spirit, a kind of follow up book to WALKING IN CIRCLES BEFORE LYING DOWN even though it is about a different set of talking dogs. It also marks the first time I have tried to write a male narrator. I have often written about the weird twists and turns  in the intimate negotiations that take place between men and women. Gil, the narrator of NOSE DOWN, EYES UP was my attempt to better understand the male side of it all. Toward that end, I did a fair amount of corrective rewriting and checking with actual members of the gender because oddly enough I found it a lot more challenging to live inside the head of a man and understand and get it right than I did inside the head of a dog. I have been told by men that I got it right. My dogs are still kind of vague on the topic, however.
Reviews
Booklist
Gil is a bit of a schlub. Nearing 50, he lives rent-free as a handyman in an elderly couple's Los Angeles vacation home. His girlfriend, Sara, works as an animal communicator. Consequently, he can now understand all four of his dogs and is surprised to discover that the alpha dog, Jimmy, has been giving informative lectures to the neighborhood dogs about such topics as begging faces, edible shoes, and peeing inside versus outside. A chance meeting with Gil's ex leads to his accepting a job remodeling her guesthouse, and Jimmy begs to be brought along. Soon Gil finds himself moving uncomfortably closer to his ex and further away from Jimmy, and it's only when things get rough that Gil and Jimmy begin to reconsider the meaning of family. Markoe's satire is right-on, even if, as often happens in real life, the dogs are more interesting than their owners. Dog-crazy or otherwise, every reader will find much to contemplate and laugh at in this story about human and animal nature, furry or not.
Los Angeles Times
Merrill Markoe's work keeps going to the dogs. Literally. As in her previous novel, Walking in Circles Before Lying Down, this one features dogs who talk to humans, providing most of the best lines in the work.
The dogs of Nose Down, Eyes Up are far and away the most appealing characters, which Markoe, in the voice of her first-person narrator, a Malibu handyman and ne'er-do-well named Gil, pretty much owns up to in the first lines of the book. "If you ask me, most people are a pain…"
It's easy to imagine Markoe's muses —think mongrel faces, shaggy fur, wagging tails and wet tongues. Dog is her copilot, indeed. Sure, Markoe is an Emmy Award-winning comedy writer, a sometime talk-radio host, an essayist and occasional television producer as well as being a satirical novelist, but let's not forget her ultimate contribution to American popular culture: creator of the "Stupid Pet Tricks" segment on "Late Show With David Letterman." The misanthropic edge that characterizes most of Markoe's work and biting humor is often softened by this recurrent theme of hers: The selfish, destructive, narcissistic nature of the human species can always be brought to some level of, um, humanity through the redemptive relationship with animals — dogs in particular.
That is certainly true of Gil. Once something of a piano prodigy, he's idled away most of his life never fulfilling his potential, or so think his mother and his ex-wife. Long having abandoned his musical inclinations, he skates by as a caretaker for a rich couple's vacation property and lives with Jimmy — a Labrador who bears a resemblance to Gil and, having been raised by him since a pup, believes himself to be Gil's son. There's also Fruity, Cheney and Dink, three mutts rescued by Gil's sometime-girlfriend Sara, a professional animal communicator and all-around well-meaning but clueless New Age yahoo.
Ironically, it's cynical Gil and not Sara who actually does talk to the animals — in particular to Jimmy, who is a kind of motivational speaker in the universe of dogs. Gil comes upon Jimmy holding court with the neighborhood pack, delivering a lecture that has special resonance for most of this book:
"Understanding people is a hit-or-miss business," said Jimmy, "because people are unpredictable. They project their thoughts onto you. That guy you live with sees you as an extension of his personality. He can't imagine that you have a set of thoughts that don't match his."
Things quickly get complicated for Gil and his pack when the rich couple return to their vacation house, forcing Gil to find a place to live temporarily. Gil's easiest option, to move in with Sara, turns out not to be so easy, landing him squarely back in the place he's been trying to avoid: at his mother's house, facing her disappointment and his brother's success as a one-hit wonder who supposedly penned the '70s pop hit "Undercover Angel."
Meanwhile, Gil's chance meeting at the grocery store with Eden, his femme fatale ex-wife, eventually leads to Jimmy going down his own road of discovery. When Jimmy learns he is not actually part human, he insists on meeting the rest of his family, who happen to live with Gil's ex. Master and dog eventually come to a similar epiphany: Family is never truly what you think it to be, or what it pretends to be. And, furthermore, what a family is or isn't should have no bearing on what you choose to be. Before they arrive at that understanding, however, there's the sudden, threatening wildfire that seems to be requisite in all recent novels dealing with L.A., as well as a breakup and bumbling sex scenes.
True to form, in Nose Down, Eyes Up, Markoe provides some laugh-out-loud moments and a few "ahas" of stinging insight into the nature of men, dogs, Westside trophy wives and Angeleno culture in general.
Publisher's Weekly
Jimmy, the canine star of Merrill's second fun-loving doggie novel (after Walking in Circles Before Lying Down), is the Tony Robbins of the dog world and holds informal seminars with the neighborhood dogs to instruct them in the art of manipulating their human masters (the key, he intones, is nose down, eyes up). Jimmy's poochly wisdom, spot-on and hilarious throughout—is made available courtesy of his owner, Gil, an unlucky in love handyman who learns how to communicate with dogs. This launches the novel's plot, as Gil shoots down Jimmy's idea that he is Gil's biological son. Soon, Jimmy is intent on meeting his birth mother, who happens to belong to Gil's now-remarried ex-wife. A series of setbacks beset the duo, and the tribulations provide lessons in life, love and finding happiness. The conversations with the wry, wise and lovable Jimmy (and his three other oddball dog pals) comprise the novel's heart and comedic through-line—discourse ranges from business matters to why dogs pee so many times during walks. Markoe's hilarious dialogue should be a must-read for dog lovers.
Kirkus Reviews
In Markoe's latest comic novel (Walking in Circles Before Lying Down, 2006, etc.), a 47-year-old California dude learns some life lessons, mostly from his pet.
Handyman/housesitter Gil has come to terms with his lack of ambition. And why not? He has the run of a Malibu estate when the owners are away and a casual relationship with hippie Sara, and the time always seems right for a beer. To top it off, Gil has just acquired an interesting skill: He can communicate with his dogs. The how and why of this miracle is quickly passed over, but never mind, because by page seven the four dogs are full-blown characters. Much of the novel's comedy comes from alpha dog Jimmy, who gives the equivalent of Tony Robbins' self-actualizing seminars to neighborhood pooches. On love, Jimmy holds forth: "It's the big emotion behind snack time… It's the reason why someone will take you for a walk." So enlightening is his lecture "Edible or Inedible?" that Gil begins a blog for Jimmy. But Jimmy's newfound fan base means nothing. He is reeling from the discovery that Gil is not his biological father and demands to meet his birthmother Gypsy, now living with Gil's ex-wife Eden. Gil is all about maintaining the status quo, but everything changes when he has to move out of his house for a few weeks. Sara thinks this will be a perfect time for them to improve their relationship (couples counseling is involved), but after a few claustrophobic days he moves into Eden's guesthouse, hired by her new husband Chad to renovate the place. Sara is livid; Jimmy is thrilled to be back with his "real" family; Chad makes Gil his new confidant; and the slightly evil Eden convinces Gil that conjugal rights extend to exes. It's only when catastrophe hits that Gil begins to admit what a screw-up he's been and hopes it's not too late to save everything he loves.
An amusing work, improved by the irresistible talking dogs.
The L.A. Times review after being edited by my dog Jimmy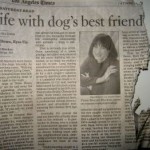 This book is also available for download and in audio.