Posted January 23rd, 2011
Tags:
diary
,
History of the Diary
,
Merrill Markoe
,
The Morgan Library
There is a new show at the Morgan Library and Museum, in NYC, that appears to be retrospective of the human being and his centuries old need to present himself and his life through the keeping of diaries.  From the review I read in the N.Y. Times, it looks  like an exhibit I would love. The show appears to contain everything from a fifteenth century " first printed edition of St. Augustine's 'Confessions,' and that book's 18th-century secular heir, Rousseau's "Confessions" to the hand written  musings of assorted luminaries such as Sir Walter Scott,  Emily Bronte, and Nathaniel Hawthorne and his wife (see below). There are also contributions from that old diary perennial Anais Nin as well as  musings from Bob Dylan, Tennessee Williams and a policeman at the site of the World Trade Center during 9/11.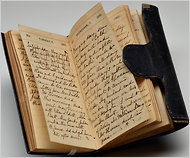 All appear to share the amazing details of being alive in their particular moment. Somehow everyone seems to know instinctively how to create the kind of entry that deserves to be placed upon the sands of time and burned in to the pages of history. Read more