Posted June 6th, 2012
I was driving home from the gym at about 10 the other night. I go there late because  there are fewer people. Also driving home is nice.  Its very dark and quiet, although sometimes I hear a coyote or a peacock (or the over-amplified bass booming out of a party.) On this night, as I got to the bottom of the hill, something shiny hit my headlights. Staring in to the road directly ahead of me, I saw a shape and more glare. Because I read the news too carefully, my first thought was not "animal in the middle of the road", but "camouflaged bomb placed at intersection by Al Qaeda." It was kind of flapping like  a paper bag or an already crunched cardboard box. I stopped the car before I ran in to it and as I carefully drove around it I thought it seemed to be kind of the shape of an animal,  tho clearly not an actual animal.  I decided it was probably another manifestation of my habit of finding faces on inanimate objects when I stare at them.
The next day I walked the dogs back to that same spot. By then I had completely forgotten about the entire incident. But once  I found this thing, lying on a nearby curb, I suddenly comprehended the rest of the scenario.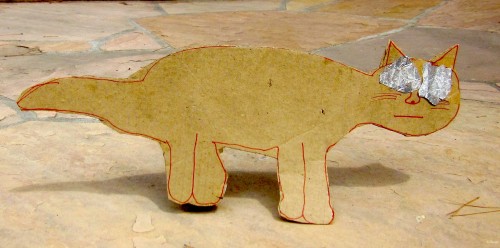 Bet the artists, who no doubt performed an exagerrated recounting of my every reaction, would be surprised that I liked their work so much, I took it home and put it on display.