Posted September 16th, 2011
Tags:
1982
,
Chris Elliot
,
george Meyer
,
Gerry Mulligan
,
Letterman
,
Merrill Markoe
,
Paul Shaffer
,
RollingStone
,
Tom Gammill
So there is a piece in the new RollingStone about year one of the Letterman show. (If you use the link, check under the area labeled 'features'  And if the link says something about how you need to be a subscriber, just google Rollingstone,Current issue. And it will appear. Then look for features.). As a lot of you may know, this is not a piece of my past that I revisit much. I have a lot of reasons, among them the fact that whatever  the opposite of nostalgic is, I am that. But when the writer of the piece, David Browne, contacted me, I decided I'd play along. Because…you know… why not?  And in the course of playing along, the art director asked me if I had any photos. As it turned out, I did.  I made jpegs out of a bunch of them but for whatever reason, they never made it in to the magazine.   Which brings us to this blog post. Since I went to the trouble of making the damn jpegs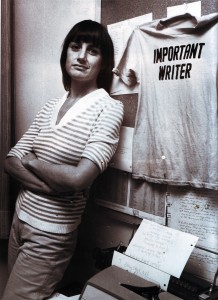 , I thought maybe fans of the early Letterman show might enjoy seeing them.  Lets get ME over with first. Here I am when the show first launched. The important writer shirt was a sarcastic souvenir from my days of being a struggling writer at large, newly moved to Hollywood. Which, at that point, was just a few weeks before this.  I thought it was a very funny thing to have on a shirt that labeled me an important writer. In fact, it was the funniest thing I could think of. That, in a nutshell, was me then.
Read more