Posted in
blog post
on December 13th, 2012 by Merrill Markoe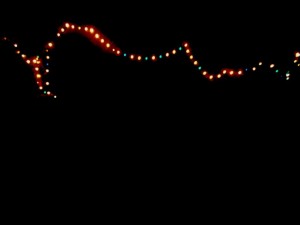 The holidays mean many things to many people. One thing it always means to me is another chance to soak up the style and artistry of Bob Dylan's Christmas decorations.
Masterful as always, this year's display forms an understated but singularly festive curvilinear line on the recently trimmed hedge that he uses as his holiday canvas :modern yet classic, like the man himself. For 2012 Mr. Dylan is offering us a more pointed arc than in previous years, at a slightly higher pitch and elevation, the better to showcase the unique way he is able to combine the abstract and the traditional. But once again, after a few lilting uplifting loops of color, we see the double downward dip of lights that some call"Dylan's noose".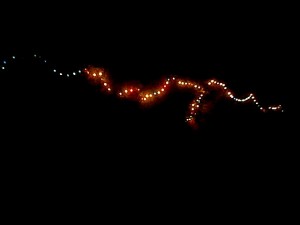 a curious and unsettling divertissement that is open to interpretation like so much of his work.
Not as visible this year is the delightful 'winter wonderland' section. Below we revisit a taste of this work from 2011. Note how he has given us a tableau that is somehow playful while at the same time a study of the stark realities of Christmas.