Posted in
blog post
on November 5th, 2009 by Merrill Markoe
I was trying to figure out what to write here. I always think I should be weighing in on topics of importance. Like how much I am for the public option, or how much I hate the Sarah Palin/Glenn Beck/Rush Limbaugh edge of the Republican party. Etc. Etc. Instead, here is what I spent a lot of the morning fretting about: Mariah Carey and her transformation from theoretically gorgeous and glamorous to theoretically "hideous" and "dowdy" in her new role in the theoretically fabulous new movie "Precious." Of course, I haven't seen the movie yet so I can't speak to its quality. The clips on-line certainly look compelling. But in a big feature article in today's L.A. Times Mariah tells us that, to create the character of "a dowdy welfare caseworker",the "drab but deeply empathetic soul" named Ms. Weiss she had to "lose all vanity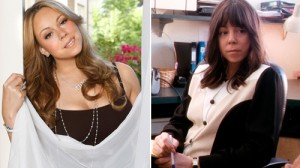 ."
'Hideosity" she exclaimed raising her hands in mock horror" when she viewed a picture of her other self.
And this is precisely why I hate most Hollywood movies. And Mariah Carey. Because Mariah's transformation in to hideous looks to me like me and plenty of people I know on an average work day. Okay, not a day where we put on mascara and  false eyelashes and then got so preoccupied by holding a gauzy translucent wrap at just the right level so it revealed the flirtacious outline that our pearls were making on our succulent sumptuous cleavage that we decided it was too much work to hold our heads up straight so we kind of let them list to one side, and eventually just leaned them on a door jamb… But rather a day at work, where we were pre-occupied by our thoughts. Yes, thoughts. Those things that don't seem to bother the glorious version of Mariah on the other side of the line where she can only keep her eyes and her glossy lips half open because she decided, after she spent hour upon hour staring in to the mirror, that it was totally the most photogenic look. Yes, yes, I know how thoughts can get in the way of a nice empty stare. You start to let that happen and then the next thing you know you are saying layered complex things, and you sound like Barack Obama does. And no one wants that. That's when the the trouble really begins.
Regular women have had a series of these creepy show biz side swipes lately. The other was Glamour magazine's big break through running the photo of the theoretically  fat model. Except the model wasn't fat. She was gorgeous and in great shape and just forgot for a minute that you're not supposed to take your clothes off if you're not a size two. Oops! She must have been drinking or something! And the next thing you know, everyone was all congratulatory about this amazing game changing photo and saying " Look! She's naked and she's a size 8!! Can you believe that Glamour magazine has started running Diane Arbus freak show photos? " Meanwhile, I was sitting quietly , staring at the photo wondering "Is there some other part of the solar system that is recruiting new comers? Because I think I might need to move to another planet."
I guess my general theme here falls in to the same category as the ongoing insanity used when they cast "the frumpy best friend" in everything. And I mean EVERYTHING. Even "reality shows." Its the same mental illness that wants to pretend that Courtney Cox , an extremely beautiful and unbelievably skinny woman by any set of standards is a reasonable stand in for a character coping with a weight problem (Friends) or  difficult symptoms of aging (Cougar Town.)  I once had a teensy part on Friends (Episode 2! I was Marcia, the irritable museum curator!) and I saw Courtney Cox in person. I kept staring at her and thinking to myself "Where does she keep her intestines and her spleen? There's not enough room in that body for internal organs."
So apparently the point of this little diatribe is  that  I'm seriously  fed up with a culture that only values vacant beauty . Oddly enough, it sounds like this  may be one of the main underlying points of "Precious", the movie in which Mariah Carey had to stoop to abject hideosity. I know its not a very original thought for me to be railing about. Every shallow superficial woman's magazine espouses some version of the same thing,( then quickly undermines it with before and after make-over photos that show a nice looking woman transformed in to someone who may look a little more trendy but is now actually less attractive.). But in my opinion it is this grotesque attitude that is as much behind the rise of the horrible Ms. Palin as anything else. Because although I have yet to hear her say anything moderately intelligent, and despite the fact that she is out selling "a book" that she and her ghostwriter cranked out in a couple of months (while it takes me a  year to get a rough draft…and that is before I even start all the tedious rewrites) I do  give her this: The woman can't take a bad picture. She always looks very pretty. I hate that this can somehow be a factor in how seriously she is taken.
So there. I vented AND I almost hit one of the topics of importance from my first paragraph. Now I better get back to writing my real book if I want to get paid anytime this decade.
PS: I wanted to tell the person who was kind enough to buy that foot frame from Ebay (see 2 blogs ago for explanation) that I donated the money to  a dog rescue organization, and then I also donated MORE money to an elephant sanctuary. So somewhere in all of that is YOUR money. And thus the dogs, elephants and I all thank you very much.