Posted in
blog post
on November 17th, 2009 by Merrill Markoe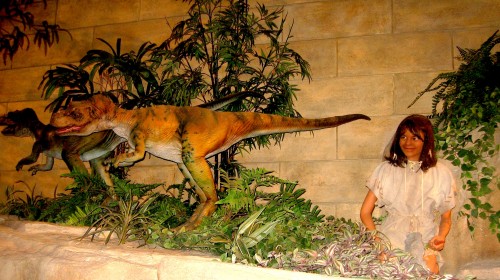 At The Creation Museum in Kentucky, a place where a little information goes a long way because, well, that's what they make available and also you know… its God's will. And because that's the premise of the museum– to offer the creationist view of the world. On the plus side, it was art directed by someone from Universal studios so its got some very nice animatronics.
Like I've always said: I have the most useless amount of fame. It doesn't necessarily get me career opportunities or tickets to events. It just causes a few people to eye me suspiciously.
Truth is, I love places like The Creation Museum. For example, the tableau that greets you at the entrance ( see  photo number one ) in which a "Bride of Chucky' like child , wearing a buck skin sun dress, feeds a carrot to a squirrel while smallish and presumably friendly dinosaurs frolick all around her in a primeval garden at the dawn of time, 6000 years ago. Now that's what I call total entertainment.
A little less enjoyable was one of the directors of the place who followed us out to the car and wanted to know if my name was Merrill and if I was a comedian. He also wanted to find out why I was there and what I was planning. I don't know why he would think  I needed more of a motive to be there than a chance to see life-sized dioramas of people living amongst the dinosaurs, (and their mutual voyage with Noah on the Ark.)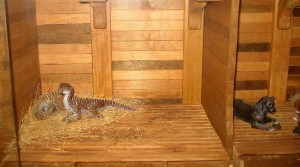 I for one had never realized that the eventual extinction of the dinosaurs might have come from them being over- hunted by humans!(Or, alternatively, that there might have been a possible change in the eco-system; kind of an odd after-thought by God, I guess, after he had gone to considerable trouble to help save them all from the flood. Those heavenly mood swings! It's not like we haven't  been dealing with them since the dawn of time 6000 years ago! We should be used them by now!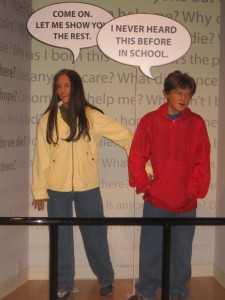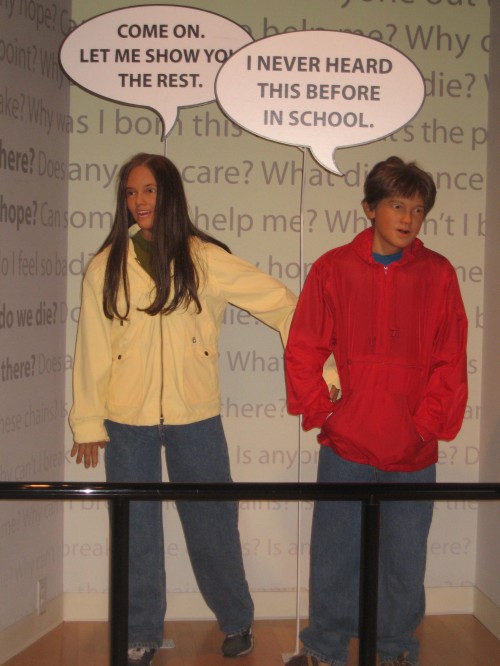 Although as a whole we still suck at predicting them…as is clearly  depicted in the pictures  below of the part of the exhibit that reviews and summarizes some of the abominations of man's descent. For example: The internet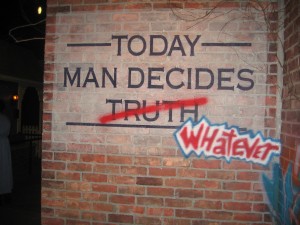 .
If you are someone who does not find  Sarah Palin to be an arrogrant megalomaniac with no awareness of her own severe intellectual limitations, this might be the step by step presentation of the creation of the world for you!