Posted in
blog post
on December 22nd, 2009 by Merrill Markoe
Well, this has been a weird Holiday Season for me so far. My brother got in to a car wreck so I went to Cincinnati for a few days to help out, etc. Upon arriving home yesterday,  I was perusing my local papers to see what if anything had happened while my back was turned, and came upon this very festive holiday greeting from the local septic tank pumper. My heart was instantly warmed because after all… how cold hearted would you have to be to not find yourself moved, at this time of year, by the emotional story of the little septic boy .
While I was in Cincinnati, Andy and I cooked dinner for some extended family. Not able to find much in the way of traditional  table decoration materials at my brother's house, Andy made  little pine bough wreathes and then started looking around for something red to make them more Christmassy. My nephew Noah came out of the bathroom carrying the bottle that contained what became these cheery red pill decorations. I think , over all, these might be my favorite holiday centerpieces ever, (despite the fact that I only realized when I finally viewed the photos that no one bothered to remove the price tag from the candle.)  If only this were hundreds of years BC,  I believe that we would have had the essential ingredients for an annual religious rite.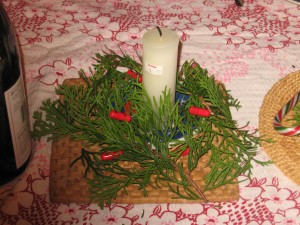 And last but not least, here is a bright happy little video we made of a song that we, at my house, like to sing this time of year, though I think you'll agree that its certainly appropriate any time of year. Happy holidays to everyone who  is reading this…Well, back to watching  the rest of my free movie screeners. If anyone is interested, I'll update that blog with the details.