Posted in
blog post
on July 16th, 2020 by Merrill Markoe
In 2019, I co-wrote (with Megan Koester) an Audible Original called The Indignities of Being a Woman.
It can be found here:https://www.audible.com/pd/The-Indignities-of-Being-a-Woman-Audiobook/B07GDPQRPC?ds_rl=1262685&ds_rl=1263561&ds_rl=1260658&source_code=GO1GB907OSH060513&gclid=EAIaIQobChMIv9Km5J-k6AIVitlkCh0N0QVsEAAYASAAEgJJEPD_BwE&gclsrc=aw.ds
Its the hideous history of women being fucked over since the dawn of civilization as we search for the answer to the question "How did 51% of the population become a minority." We find out. And we try to make it funny. I am told it's really funny and fun to listen to. but it's a horrifying story. AND it has music by An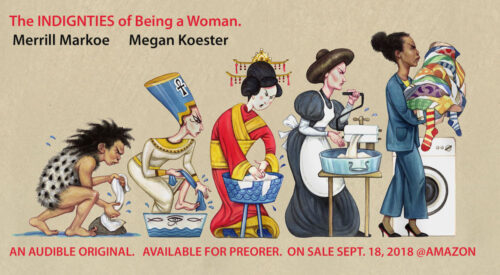 dy Prieboy!
Here is the original cover:
If you aren't sold already, here is a little promo movie
I made to the theme Mr. Prieboy wrote for us.
This should do it:
https://youtu.be/w8q9yBuGySc